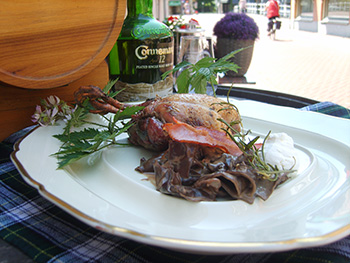 HIELANDER MENUS
Een keuze uit een 3 of 4 gangen
verrassings menu.

Deze menus zijn dagelijks samengesteld
uit gerechten die niet op het
normale menu te vinden zijn.

U krijgt een vast voorgerecht,
een vast tussengerecht, de keuze uit
een vlees- of vis hoofdgerecht en
een vast nagerecht.

Er is uiteraard een vegetarische optie.
Wel belangrijk is dat u aan ons doorgeeft
als er iets is dat u beslist niet kan/mag/wilt
eten. Zin in wat leuks erbij?
Neem een whisky of wijn arrangement,
altijd spannend!
A choice of a 3 or 4 course
surprise menu.
These menus are created every day
fresh with dishes that you won't find
on the normal menu.

You get a set starter,
a set middle course and a choice
of meat or fish main course
and a set dessert.

Of course there is also a vegetarian option. Importantly, if there
is anything that you cant or wont eat
please let us know. Want something nice
to drink with your meal? Choose a whisky
or wine arrangement, always exciting!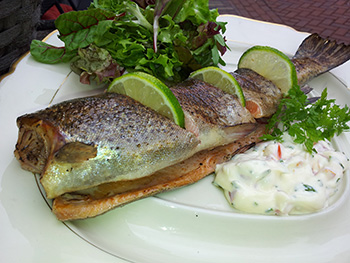 3 GANGEN VERRASSINGS MENU
3 COURSE SURPRISE MENU
€35.00

WHISKY ARRANGEMENT
€13.50

WIJN/WINE ARRANGEMENT
€11.50
4 GANGEN VERRASSINGS MENU
4 COURSE SURPRISE MENU
€42.00

WHISKY ARRANGEMENT
€18.00

WIJN/WINE ARRANGEMENT
€15.00


***
HIELANDER CLASSICS
Sinds het begin van de Hielander in 1989,
zijn er enkele gerechten geweest die we hebben geprobeerd af te wisselen met wat anders. Tevergeefs, want na veel vragen van onze klanten konden we deze gerechten na een paar
weken weer terugzetten op ons menu.
Deze gerechten zijn omgedoopt naar
'The Hielander Classics' en deze gerechten
blijven voortaan op onze kaart staan.

These 'Hielander classics' have become
over the years all-time favorites,
and remain permanently on the menu.
***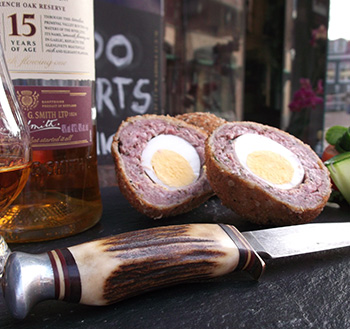 STARTERS
SEASONAL MENUS





STARTERS


HIELAN APPLES- €11.50

Zoete appels, geitenkaas, honing en room, warm geserveerd

Sweet apple, goats cheese, honey and cream served warm




NAIRN BEARDIE- €12.00

Gemarineerde, geroosterde meerval filet, geserveerd met een dille-tomatensalsa
rabarber compote

Marinated, roasted catfish fillets served with a dill-tomato relish




SCOTCH BREE - €6.50

Een dagelijks vers gemaakte traditionele
Schotse soep

Daily made traditional scottish soup


***


MAINCOURSES


DEESIDE SALMON - €23.00

warme gerookte zalmfilet, geserveerd met een saus van groene tuinkruiden

Hot smoked salmon fillet, grilled, served with a sauce of garden herb-butter sauce




AULD FASHIONED - €23.50

"Vis & friet" op z'n Hielanders,
Kabeljauwrugfilet in boter gebakken,
geserveerd met lucifer aardappels en een warme remoulade saus

"Fish & Chips" Hielander style
fresh cod fillet fried in butter,
served with matchstick potatoes and
a warm tartar sauce




AYRSHIRE VEAL - €24.00

Langzaam gegaarde kalfswangen, geserveerd op een bedje van zwarte linzen

Slow-cooked veal cheeks, served on a bed of black lentils


ALLERGENEN

onze gerechten zijn allemaal geproduceerd in huis, dus geen verborgen ingrediënten zoals kleurstof, smaakstof etc.
Informeert u ons a.u.b. als u een allergie of een specifiek dieet heeft

ALLERGIES

We produce all our products inhous with no additives, flavourings, colourings etc. If you have a specific allergy or diet
please inform us





OUR RIBEYE STEAKS

Onze vermaarde ribeye steaks komen van het Aberdeen Angus ras, wereldberoemd om hun smaak en malsheid.
Geserveerd met een kruidige uien chutney.

De ribeyes zijn 300 gram per stuk, standaard als medium rare gegrild. Als u liever iets anders wilt, kunt u dat aan ons doorgeven.

De ribeyes zijn verkrijgbaar als…………………
SINGLE (x1)
DOUBLE (x2)
TRIPLE (x3)

DEZE COMBINATIES ZIJN
BEDOELD VOOR EEN PERSOON!



Our famous ribeye steaks are
Aberdeen Angus beef, well known for
their flavour & tenderness.
All served with a spicy onion relish.
The steaks are 10 oz each, are all grilled medium rare, if you have another preference, please inform us.

The steaks are available as……………
SINGLE (x1)
DOUBLE (x2)
TRIPLE (x3)

THE COMBIS ARE FOR
ONE PERSON ONLY!

1 x - €23.50
2 x - €36.50
3 x - €50.00

*Extra bakje salade/aardappels €3.50
*Extra broodjes €0.75 per stuk

*Extra coleslaw/potatoes €3.50
*Extra bread-rolls €0.75 each




HAGGIS

Het Schotse Nationale Gerecht,
beroemd en berucht!
stevig en pittig gekruid, durf je het aan?

The Scots national dish, famous & infamous! very filling, spicy, are you ready for it?

€23.00

A haggis is a small animal native to Scotland. Well when I say animal, actually it's a bird with vestigial wings - like the ostrich. Because the habitat of the haggis in exclusively mountainous, and because it is always found on the sides of Scottish mountains, it has evolved a rather strange gait. The poor thing has only three legs, and each leg is a different length - the result of this is that when hunting haggis, you must get them on to a flat plain - then they are very easy to catch - they can only
run round in circles.
After catching your haggis, and dispatching it in time honoured fashion, it is cooked in boiling water, then served with tatties and neeps (and before you ask, that's potatoes and turnips).
Many other countries have tried to establish breeding colonies of haggis, but to no avail - it's something about the air and water in Scotland, which once the haggis is removed from that environment, they just pine away. The largest known recorded wild haggis (caught in 1893 by a crofter at the base of Ben Lomond), weighed 25 tons. The three legs are a product of evolution, and this explains the logistic problems of bringing two haggis together - after all, sure footed though the beast is, if two were to mate on a Scottish hillside, it is a long fall down, and a slip at the wrong time may very well result in a reduction by two of the total haggis population.
What is known about Haggis breeding is that, several days prior to giving birth, the Haggis make a droning sound - very much like a beginner playing the bagpipes for the first time - giving rise to the speculation that the bagpipes were indeed invented in Scotland, simply to lure unsuspecting haggis into a trap. At the onset of this noise, all other wildlife for a five mile radius can be seen exiting the area at an extremely high rate of knots (wouldn't you if your neighbour had just started to play the bagpipes?).


This tale is the complete and honest Gods truth, or as a (in)famous woman
prime-minister of the UK once said:
'I never lie, I am only sometimes
economic with the truth!'

Wullie


***


DESSERTS


ISLA
STICKY TOFFEE PUDDING - €9.50

Warme dadel-caramel cake
met toffee saus en kaneel ijs

Hot caramel date cake with toffee
sauce and cinnamon icecream




ANDRA
(DRIELUIK VAN CHOCOLADE) - €10.50

Chocolade taart, chocolade saus,
chocolade ijs

Trio of chocolate: chocolate cake, chocolate sauce & chocolate icecream




IONA
(FRESH FRUIT SORBET) - €10.25

Selectie van vers sorbet ijs van
ijsmaker Otelli uit Haarlem

Selection of fresh fruit icecream from Otelli the icecream maker from Haarlem




CHEDDAR CHEESE - €10.50

Schotse cheddar kaas met peper chutney, crackers & boter

Scottish cheddar cheese with pepper relish, crackers & butter,




GAELIC COFFEE - €10.50

Zoete zwarte koffie met een glas
whisky en slagroom

Sweet black koffie with a glas of whisky & and a portion of whipped cream




DESSERT WINE - €5.25

Een lekker glas speciaal geselecteerde dessert wijn

A delicious glass of specially selected dessert wine


***